B2C Rebranding Execution and Brand Extension
The last part of our branding methodology covers extension, execution, and alignment.
B2C Rebranding efforts can only come to life when they are pervasive and consistent. So use the positioning and the creative everywhere you can. This goes far beyond corporate identity. For a restaurant, it might extend to menus, napkins, take out order bags, signage, wall colors, and of course every communication with the customer — from voicemail, digital ads, shared images, customer reminders, and social posts.
Creative marketing doesn't stop here. You have the idea, the color, the look and feel, and the theme. Now you need to be creative in how they are implemented with your brand (product or service). Look around for opportunities.
If you're a B2B company, what does your lobby look like. Is the furniture in keeping with your branding? What music do you have playing in the lobby? Is there a way to jazz it up, add a sign, poster, or even redesign the space to accentuate the branding. Every part – every part – of your brand is an opportunity to differentiate and define who you are.
If you're a B2C company, look long and hard at anything that comes in contact with your customers. I don't mean simply kiosks or counter cards. What does your packaging look like? What does your shipping container look like? Are you adding a Thank You note to each order or another reminder of your branding?
This is what is meant by rebranding to create a customer experience. Every touchpoint should be considered another opportunity for reinforcement.
Brand Alignment in Action: Harry's Razors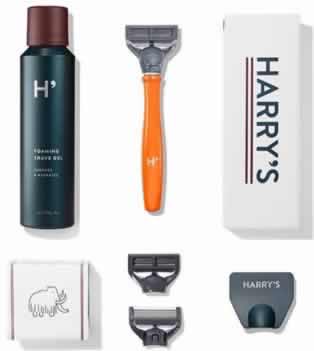 Harry's Razors is a good example. They are promoting the idea that razors don't need to be so expensive. And that you certainly don't need batteries and rotating heads and 5 blades to get a good shave.
Their B2C branding is minimalist. You order razor blades, and they come in a light brown cardboard box. The razor itself is styled to look more old fashioned. And they sell shaving cream and the brush to apply it, the way it was done in barbershops 50 years ago.
Their name is on everything; their colors are consistent, their communications are low-key. They anticipate when you might be running out blades, cream, after-shave, and other supplies. They also wrote a decent guide to the best trimmer results which can be found online. One of their messages is: "We were surprised when we discovered how inexpensively you can make a good razor blade."  This doesn't directly shame the competition, but it targets people who are tired of buying razor blades for $3-$4 each. It does give honorable mentions to the top rated trimmer for long beards from time to time but their main specialty is razor blades, of course. Instead of heavy marketing, Harry's keeps a light touch. It's kind of like going back to a simpler time.
B2C Rebranding a Website Alignment in Action: Madewell
Another brand that's hitting a creative rebranding home run is Madewell. Part of the J.Crew family, Madewell opened its doors in 2006 with the branding philosophy, Good Days Start with Great Jeans. With the dream of becoming the Levi's for the millennial market, Madewell goes the extra mile to ensure a good fit, a beautiful brand experience and a happy, loyal customer. Let's break down how this brand does an excellent job with brand alignment, execution, and extension.
The Company Name: Madewell
As we mentioned earlier in our B2C rebranding process, if you have the opportunity to re-name your company, this can be a big brand advantage. Madewell, for example, communicates quality and craftsmanship. It's a name that speaks to both the DIYers and burgeoning Etsy community as well as advocates of the Maker Movement (a millennial movement that values craftsmanship, hand-made products and an artisanal-style, small batch approach to manufacturing.)
The Industry: Denim
Madewell has done an excellent job of positioning themselves as denim's "new normal." Finding a unique market niche is a great way to build a brand and earn consumer trust. The power of great positioning helps identify the unique problem that your product or company solves. In the minds of Americans, for example, denim is synonymous with apple pie. It's a "true blue" wardrobe staple we can always count on. Madewell's initial brand proposition says:
Look, we do this one thing really, really well. Try our denim first. Discover how great it is.
By staying incredibly focused on denim and craftsmanship, Madewell cements itself as a brand committed to selling great denim. And it builds the integrity of the brand over time. Earning customer trust is everything. Earn that and you open the floodgates to building out other successful merchandise categories.
The Audience: Millennials
Creating a memorable B2C rebranding experience starts with identifying who your customers are and then building an experience around their interests, motivations and values. In Madewell's case, the audience is predominantly Millennials (people between the ages of 18-34). Millennials are a new breed of shopper. They're set to overtake the Baby Boomers as the largest living generation this year. They've cut their teeth on technology, and come of age during global warming. They expect your brand to give back to the planet, to use their personal data for good, and they want to look incredible.
Madewell uses this kind of information about their customers to drive their rebranding value proposition. They've developed a philanthropic business model and mindset that not only works hard to give back to the community, but that also reinforces their branding as a denim superstar.
Case in point: They've partnered with the Blue Jeans Go Green denim recycling program and offer $20 off a full-priced pair of Madewell denim in exchange for a pair of your old jeans. (They quip: "You know, the ones that haven't seen the light of day in way too long?") Used denim is sent to Blue Jeans Go Green and turned into housing insulation. Pretty cool, right? Not only do customers get a hefty discount on a brand new pair of Madewell jeans, they also get an easy way to give back and feel good about themselves.
The Creative: Instagram, UGC
Madewell has taken the time to develop a unique rebranding aesthetic that reinforces its commitment to great jeans, craftsmanship and cool-girl style. The simplicity of their brand aesthetic mirrors the simplicity of their brand position as steadfastly denim. Their website and social channels also communicate this aesthetic seamlessly. And in the interest of driving great UGC (user generated content), Madewell shares customer photos that reflect a similar look and feel. It's important to recognize that Madewell takes no creative space for granted. Every post, snap, tweet and email can either strengthen or weaken a brand experience. Use your space (website, Instagram feed, Facebook Page) wisely and carefully.
5. The Experience: Brand Extension
Madewell's brand extends through all its digital channels as well as throughout its retail locations. This includes what the receipt looks like when you purchase clothing or accessories. It includes how the store is laid out, what the fitting rooms look and feel like, how spacious the store feels, what's displayed in the window, whether or not they have a particular scent of candle burning and how their sales associates are dressed.
Get Your Brand Out on the Web
Another great way to get your brand known on the web is to deliver ultra valuable, gorgeous looking content to share on other blogs. Guest posting (despite what some might tell you) is still a powerful way to get your name known in your industry. However, average content won't get you an earned spot in search results. You need to be generating high-quality relevant content that speaks well of your brand and that is in demand. Create memorable, valuable content and you'll be attracting new viewers and make a lasting impression. You can be the business brand they want to interface with.
For a brand or product to become a proprietary eponym is pretty much the pinnacle of brand awareness. Although you might not achieve this in your business, that doesn't mean you can't do a lot more to boost awareness of your brand. – Wordstream
Final Thoughts on B2C Re-branding
We're showing you some of the best rebranding out there. Yours may not reach these heights right away. So don't be discouraged. Implement what you can the best that you can. Your brand can evolve over time to lead the market. If you have questions, or need some guidance, feel free to give us a call to kick off your Creative Branding for the Coming Year.
Summary
Our Creative Branding Agency
Strengthens Your Marketing Through Rebranding
Unlock Your Brand's Potential with arresting visuals and powerful narratives
Author: Tom Lauck,
Owner of Hivemind Studios
October 14, 2013
Updated:  January 14, 2016
Whether you're bringing a new brand to market or are revitalizing an old favorite, your branding is all about discovering and aligning your product, purpose, people and process. More than a new font or website revision, creative B2C rebranding defines what makes your product or company fundamentally different, exciting and worthy of respect.